May 2015 photo diary.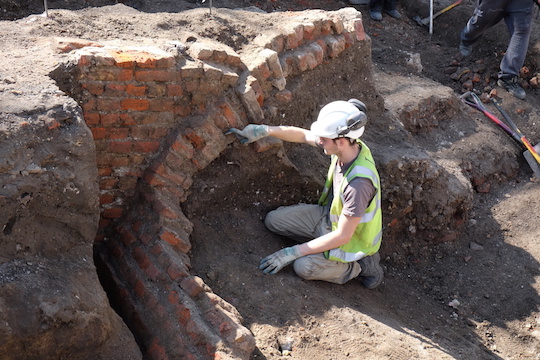 In April we started excavation on a barrel vaulted cellar, belonging to one of the buildings located off the Minories street frontage, that existed prior to the redevelopment of the area in the 1760s.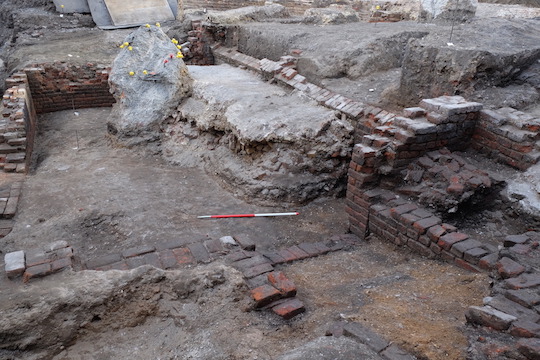 Excavation revealed a series of basements, interlinked with the barrel vaulted cellar.  The cellar was backfilled with construction materials.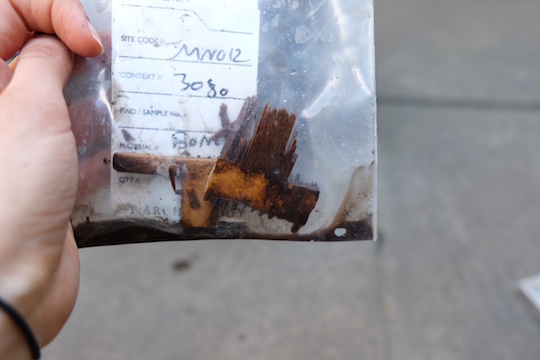 Fine bone comb find from barrel vaulted cellar.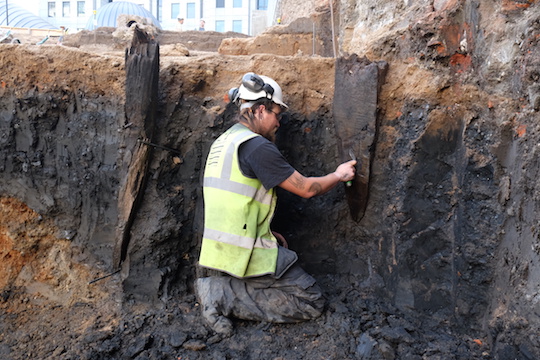 You may remember the large timber revetment excavated last month. Ben is shown here excavating the remains of another revetment.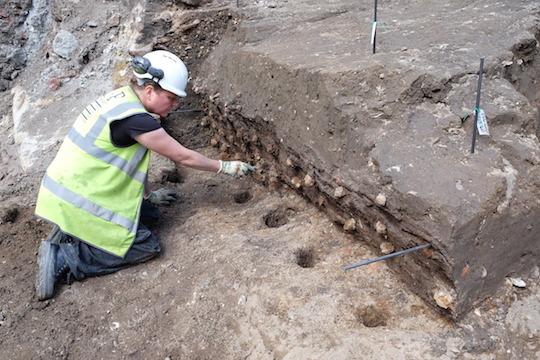 Another form of ditch revetment was found higher in the stratigraphic sequence. Due to the soil conditions this revetment has rotted away, leaving only metal rivets and 'ghost' features of where stakes once existed.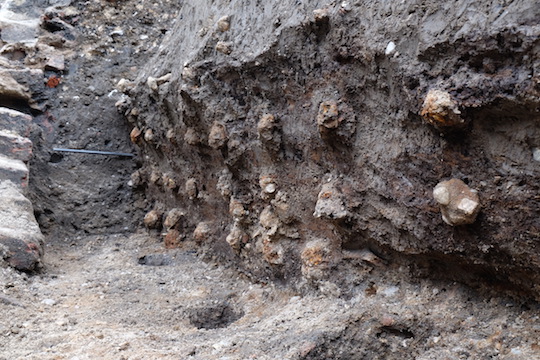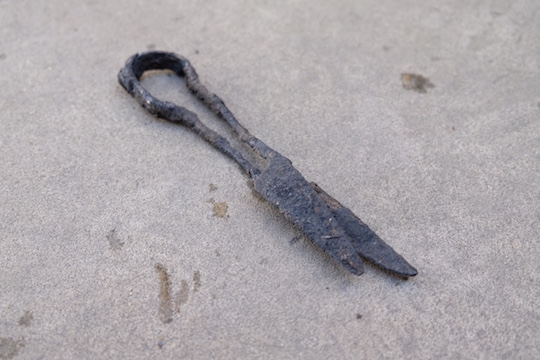 One of the last finds from our City Ditch contexts. These metal shears, beautifully preserved.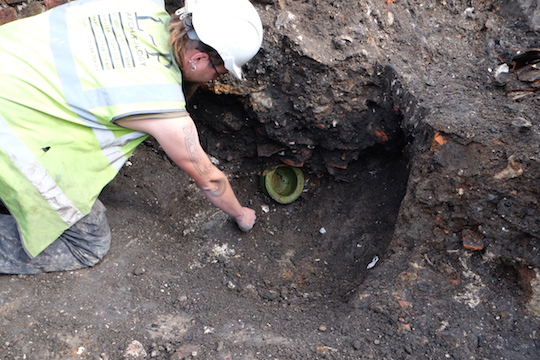 Working our way out of the City Ditch and onto the Minories buildings that were built around its bank. Ben excavates a cesspit from this phase (spot the chamber pot!)…
…. proving that cesspits, too, are artefact rich!
Two beautiful Post-Medieval Rummer drinking glass stems. These are decorated with 'prunts', decorative blobs of glass.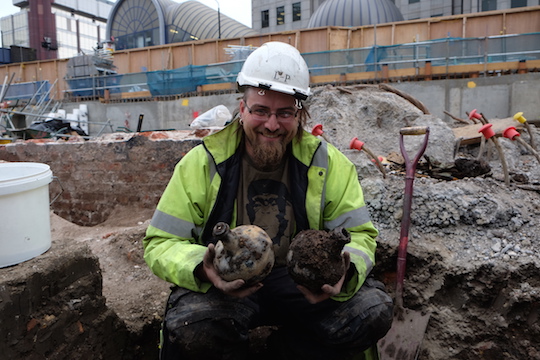 Ben Saunders holding two whole 17th Century 'Onion' bottles. Dark-green, squat bottles with a 'string' rim.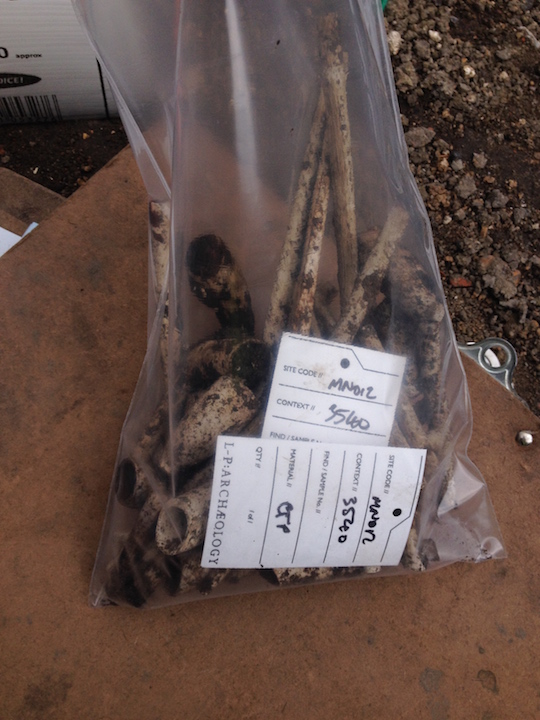 Clay pipes, with some over 15cm in stem length.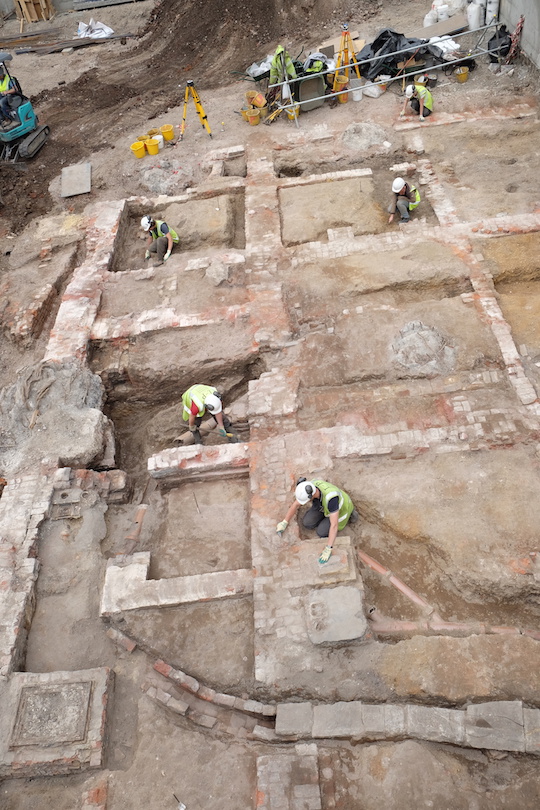 Excavation of Georgian buildings facing the Minories street frontage. Having been occupied until the 20th Century, bombed during the Second World War and demolished in the 1960s, the Georgian buildings have been striped bare of their Georgian interiors. Excavation has revealed a mixture of Georgian and Victorian drains below floor level.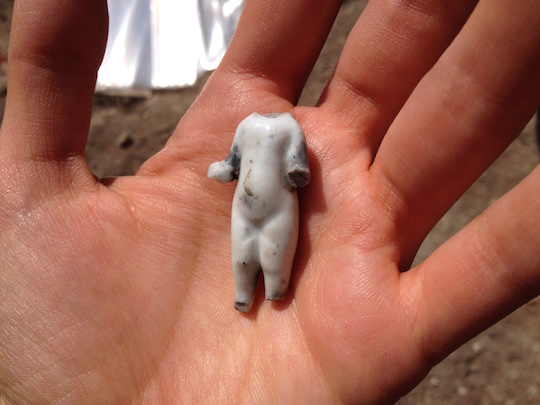 This little figurine found inside one of the Georgian drains.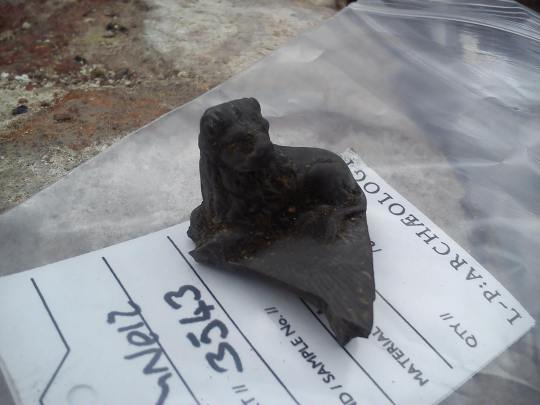 A (?)Wedgewood lion found in a silt trap relating to the Georgian 1760s built Minories buildings. Photo credit: Daniel Bateman.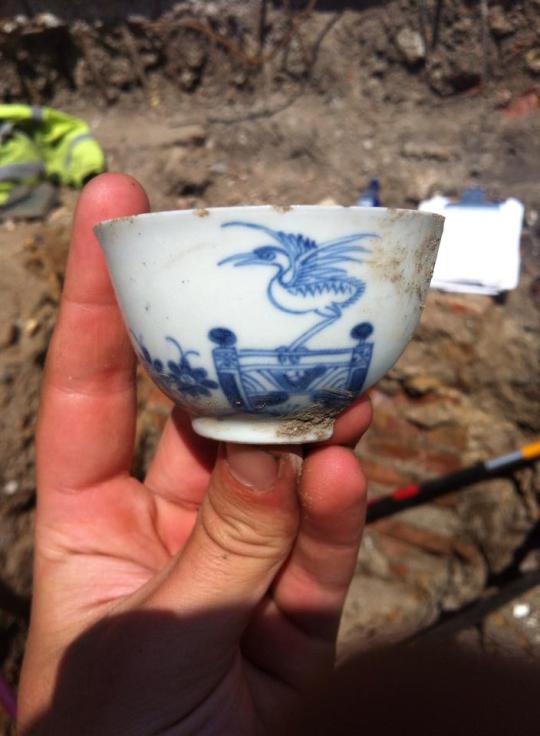 Small china cup. Photo credit: John Quarrell.